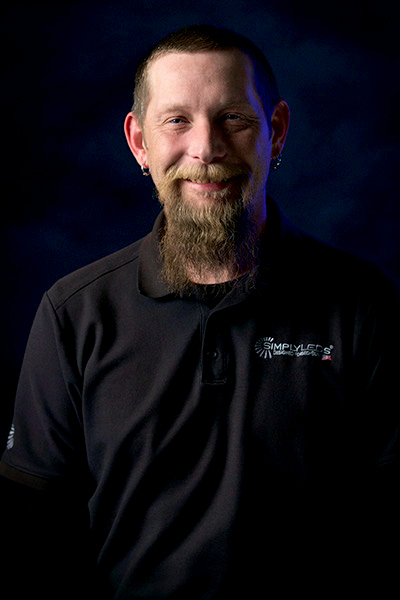 Warranty Manager and Customer Service Guru
Toby began at SimplyLEDs looking for a solid, full-time job but got more than he expected, and so did we. After mastering every facet of our manufacturing process, he became the Production Lead, then into Quality Assurance, and eventually into Warranty & Customer Service. Motivated to always find more efficient solutions, Toby led the charge to go paperless even before we installed our MRP system.

Today, Toby is still our MRP system guru, and handles all warranty and RMA customer service and repairs.

Dedicated and faithful in his work, Toby is the king of puns, comebacks, one-liners, and dad jokes and at the end of the day likes to enjoy an ice-cold beverage and, "revel in the day's wins and contemplate tomorrow's solutions."
IAQs (Infrequently Asked Questions)

So Toby, what makes working here different? SimplyLEDs has allowed me to pursue growth in areas that were not the primary reason for being hired. The fun, mildly humorous environment here is comfortable and not overbearing.

If they invented a National Holiday in your honor, what would it involve? Beer, BBQ, and sunshine. [I think 314 million people would celebrate alongside you there, Toby]

What's the most important thing you learned before leaving home? Always look both ways before crossing the street—even if it's a one-way street and don't do something permanently stupid just because you're temporarily upset.